NEWS
News Letter Vol. 3 Has Been Released!
2020年4月17日
On April 15th 2020, we released the third volume of the Yokosuka Climate Case News Letter.
Please click on the image below to view it.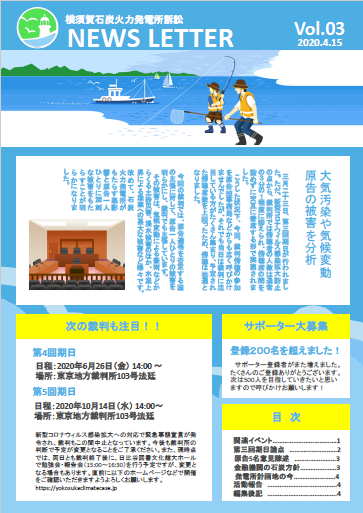 English Translation:
Page 1:
Air Pollution and Climate Change — Analyzing the Plaintiffs' Damage
On March 23rd, the third court date took place. However, to prevent further worsening of the COVID-19 outbreak, the number of visitors was limited to a third of the usual figure, and visitors were to be seated in a way that one seat would always be empty next to them.
Due to these conditions, this time, there were no wide calls from the plaintiffs' secretariat etc. for visitors to participate in the trial. But even so many people interested in the trial gathered on that day anyway, and as their number exceeded that of seats available, a lottery took place to allocate the spots.
During this trial, in response to the nation's denial of the plaintiffs' eligibility, each of the plaintiffs laid down the damages they suffered and insisted on the trial.
These damages take various forms, from landslide disasters and flood damage caused by heavy rainfall to large-scale damage to the fishing industry due to rising sea temperatures, all results of climate change.
Once again, the negative impacts due to the coal-fired power plant and the deep damages done to each of the plaintiffs became evident.
Page 2
Third Court Date: Exactly What Kind of Damages Are the Plaintiffs Suffering?
Plaintiff Statements
At the court date on March 23rd, it was categorized what kind of damage each of the 48 plaintiffs would directly suffer due to the construction of the Yokosuka coal power plant in accordance with the table below, and asserted for the plaintiff's eligibility to be recognized. Also, five of the plaintiffs submitted statements of opinion, which we will briefly introduce here. The statements are available in their entirety in the "Documents" section of this website.
| | |
| --- | --- |
| A-1 | Within 3 km (of Kanagawa prefecture hearing area) |
| A-2 | Within 20km |
| B | Impact of air pollution |
| C | Impact of hot drainage |
| D-1 | Danger of landslide disasters due to torrential rain, danger due to high tide |
| D-2 | Impact of heat stroke (on people of 60 years and older, 15 years and younger) |
| D-3 | Engagement in industries related to marine life such as fishing and underwater tourism |
Mr. Takao Saiki 
Since 2015, I have been living with my wife near the Nagai Urushima Fishing Port in Yokosuka. We used to live in Tokyo, but we moved here to the Sagami Bay because we wanted to live in a place with a nice view of Mt. Fuji.  Two years ago, Yokosuka City staff came to investigate whether it was necessary to construct an additional retaining wall. At this time, we learned from the city staff that our house was built on a place designated as a sediment disaster warning area (steep slope). The distance between the house and the cliff is only about 2 meters, so if the cliff collapses, there is a high possibility that the house will also collapse along with it. High tides during a previous typhoon destroyed the guardrail near the fishing port. Also, during Typhoon Faxai in 2019, a nearby cliff with similar topography to the one near my house collapsed, and I became seriously worried that the cliff near us would collapse as well.
Mr. Kahoru Hashimoto
My house is on a verge of a cliff about 50 meters high. There are only about 2 meters between the cliff and the house, and the cliff hasn't been fortified with concrete. The area is overgrown with trees and grass, and the slope is quite steep – about 70 or 80 degrees. Because of its topography, the area has been designated as a "steep slope collapse danger zone," "sediment disaster warning area (steep slope)" and "earthquake disaster warning area (debris flow)."  Recently in Japan, typhoons and heavy rain are always causing significant damage. I am seriously concerned that I may be the next one to experience such damage.
Mr. Sadayuki Kajigaya
I have been engaged in the family fishing business for 56 years. My two sons also became fishers. Since long ago, we have been harvesting throughout the year shellfish like tokobushi, abalone and sazae (sea snail), as well as shrimp, octopus and seaweed, all which inhabit seabeds at a depth of 1 to 15 meters close to the shore. However, starting from about 10 years ago, the amount of seaweed growing in rocky places at the bottom of the sea (such as arame, kajime, habanori and hijiki) has been steadily decreasing year by year. This phenomenon has become especially serious over the last 5 years. Fom last year it has been impossible to spot even a trace of seaweeds which before had covered the seabed as densely as a forest. As a result, catches have decreased sharply, and recently fishers have only been able to find a single abalone per day, compared to 5 to 6 kilograms (about 30 abalone) per day before. One possible cause of this might be that the temperature of the sea water has become unsuitable for the propagation of seaweed. If these conditions regarding the climate and sea temperature persist, unfortunately it is certain that we will not be able to continue our fishing business treasured and passed down by our ancestors. 
Mr. Tetsuya Komatsubara
I dive and fish in the waters around Yokosuka Port and Kurihama Port in Tokyo Bay together with my eldest son. For our diving fishing, we put on a diving suit and helmet with an attached air hose, then dive from the fishing boat to the shallow seabeds for hours while a compressor on our boat sends air to the air hoses on our helmets. We collect giant clams, taira clams, sea cucumbers, and so on from the bottom of the sea. We are now the only ones to engage in this method of diving and fishing that used to be practised all over the country.  Even the slightest changes in the environment so far have caused great damage to us by inhibiting our collection of shellfish, so changes in the marine environment can be a matter of life and death for us. In recent years, the sea temperature has been rising in Tokyo Bay as well, prompting "rocky-shore denudation" and causing a decrease in our catches. Once the coal-fired power plant in Kurihama goes into operation, a large amount of hot wastewater will be discharged from the power plant for cooling purposes, making it impossible for the fish and shellfish established in these waters to survive there and for fishers like me to continue living due to the severe damages to the local fishing industry. It would be impossible to recover should the damages grow even more severe.
All of the plaintiffs' statements have one thing in common: In a time where the impacts of climate change are already becoming evident, building a new coal-fired power plant will cause massive damage.
Page 3
Report: Lecture by Mr. Masahiro Takemoto on March 23rd — "Climate Change As Seen From the Sea" 
On March 23rd after the trial, a study session was held live on Youtube. This time, the instructor was simultaneously also one of the plaintiffs — professional diver Masahiro Takemoto.
From 2015, Mr. Takemoto started a project of sailing on yachts in the Pacific Ocean, mainly the Micronesian waters, every year for the purpose of investigating climate change and marine pollution, and through this is experiencing the critical changes in climate change.
While sailing, water thermometers taking daily measurements show abnormally high seawater temperatures, which heighten the frequency of large cumulonimbus clouds and sea tornadoes, causing heavy rainfall and larger typhoons on the Japanese archipelago. On his voyage, Mr. Takemoto visits various Micronesian countries, like the Republic of the Marshall Islands, the Federated States of Micronesia and the Republic of Palau. He also meets with the presidents of the Republic of the Marshall Islands and the Republic of Palau, and climate change always certainly becomes a topic of conversation. This is because the nations of the Southern Pacific Ocean have suffered extreme damage due to sea level rises, higher tides and the like.
Inside the waters, with phenomena like rocky-shore denudation expanding, not a bit of seaweed is left, and the sea is starting to look like a desert.
With much seaweed gone, the insides of the sea urchins that are standing out on the bare rocks are empty and cannot be eaten. Rocky-shore denudation is spreading in the seas all over the country, and is especially bad in Sagami Bay.
I am very pained by the fact that climate change has transformed our beautiful seas, and I think that the planned construction of a coal-fired power plant in the area where I live that emits large amounts of CO2 which contributes to climate change has to be stopped. This is why I'm participating in the current lawsuit as a plaintiff.
The lecture is available on Youtube ("No Coal Tokyo Bay").
Action: Shareholder Proposal by Environmental Groups at Mizuho Bank! Institutional Investors Also Follow
Environmental organization Kiko Network as a shareholder submitted a shareholder proposal to Mizuho Financial Group (hereon after abbreviated as "Mizuho FG") requesting the disclosure of an investment plan consistent with the targets of the Paris Agreement and climate-related risks. This shareholder proposal requests Mizuho FG, in accordance with a proposal for climate finance information disclosure task force (TCFD) approved by Mizuho FG, to disclose a plan for a management strategy for investments consistent with the climate targets of the Paris Agreement. The disclosure of such a plan will allow investors to properly assess and put a price to climate-related risks.
Mizuho FG's current financing circumstances cannot be said to be managing climate risks. Especially with regards to coal, in a report of December 2019 summarizing all global financial institutions linked to coal-related industries, Mizuho FG was indicated as the largest lender to companies working on the expansion of coal-fired power generation. Mizuho FG's total financing to coal-fired development companies amounted to 16.8 billion USD from 2017 to 2019.
Reuters has reported that KLP and STB.OL in Norway and MP Pension in Denmark, companies which engage in life insurance and pension funds, support this shareholder proposal.
It has also been reported that the Development Bank of Japan, and the three large banks Mizuho, Mitsubishi UFJ, Mitsui Sumitomo, as well as the regional Juroku Bank and Nanto Bank have decided to finance the Yokosuka coal-fired power plant. Close attention will be paid to future movements in this regard.
A press release is available on the Kiko Network website.
Page 4:
The Power Plant Right Now: Construction Continues Even During Lawsuit…
The Yokosuka coal-fired power plant is currently undergoing a change in operators, from TEPCO to JERA, then from JERA to JERA Power Yokosuka LLC. JERA Power Yokosuka LLC is "a JERA group company that builds, operates and maintains the Yokosuka thermal power plant." According to a report from March of 2020, the removal of the old power plant has been completed, and ground improvement work and foundation work are now being carried out. Even during the lawsuit period, construction work is steadily taking place. Residents of the apartment buildings in the neighbourhood say that there are a lot of complaints because their walls are so thin and not soundproof at all.
Activity Report
On February 17th, 13 members of No Coal Tokyo Bay, including five Yokosuka residents, visited the JERA headquarters in person and tried to submit a petition requesting the halt of the construction of the Yokosuka coal-fired power plant. They and their petition were refused at the reception, after being instructed that the petition could be received if sent by mail, but not in person, even though the members had notified the company of their visit on that day.
Perhaps they felt very guilty and uncomfortable seeing the faces of the residents greatly inconvenienced by the construction of the thermal power plant. Or maybe they decided that there was no longer a need to meet with the residents face-to-face. The members came all the way from Yokosuka wanting to deliver the voices of over 1.000 people, but were met with such disrespect and insincerity. Truly disappointing. 
In the end, also due to the spread of COVID-19, the petition was mailed on March 26th. There were 5.402 signatures in total. There will be more petitions in the future, and we look forward to your support in those petitions as well.
We Made a Poster!
We finished the creation of a new poster featuring illustrations of seagulls and a coal-fired power plant. It is A3 size, waterproof and suited for outdoors.
Many have already put it up in their neighbourhoods, in front of their homes etc., but we still have a lot more, so feel free to contact us if you would like one as well!
Editor's Note
The fact that although there have been all kinds of restrictions due to the new COVID-19 outbreak the construction of the coal-fired power plant is steadily progressing is really frustrating. Exactly during this kind of time, I would next like to carefully think about the ideal decarbonized society and energy shift (Momoi).